Specification: 
Material: Stainless Steel  
Color: Silver, Black, Rainbow 
Size: 63x8mm  
Type: Key Chain Tool, Pocket, Multi Tools   
Features: Portable, Easy to Use  
Shape: Snow  
Drive Type: Flat/Slotted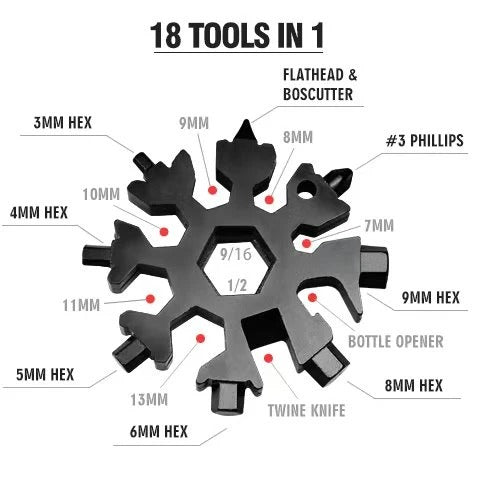 Features: 
1. Made of stainless steel, this multi-tool is portable, durable and uneasy to break, along with a long lifespan.
2. Your own compact, convenient kit. The flat head screwdriver and the cross head screwdriver are just the beginning. This multi tool also includes keys which come with 3, 4, 5, 6, 7 and 8 size, bottle opener and spanners with 6, 7, 8, 9, 10, 11, 12 and 14 size.
3. The unique snow shape embraces the sense of beauty when it sits on the table or is held in your hands.
4. This multi-tool could easily be attached to your key chain or backpack, so that when you need to repair your bicycle or opening the bottle or so on, it is within your reach.
5. A good gift for people who like outdoor activities.