6 Modes transferable and 9 kinds of intensity adjustable
The neck massage pangao adapts to the Ergonomic Frame which is suitable for the neck and the shoulder, relieves Pain and muscle tension, KNOTs, All you have to do is sit back, press the "on" button and just let your stress Melt
Adjustable Intensity button with 3 different speeds, Low, medium and High, depending on your preference
Advanced Integrated heating function which transfers the heat to the muscles, Ligaments, to improve Blood Circulation, Soothe tired muscles and relieve pain in Fund
The Neck Pillow Massager, which allow you to get the right and the right amount of pressure to relieve muscle pain
The massager can be used on neck, back, leg and waist etc, applicable for whole body
3D intelligent fit technology. You can easily adjust electrode according to your neck curve.
Electrode patch. It combines a variety of massage techniques in traditional Chinese medicine, promoting blood circulation, massage coverage more widely.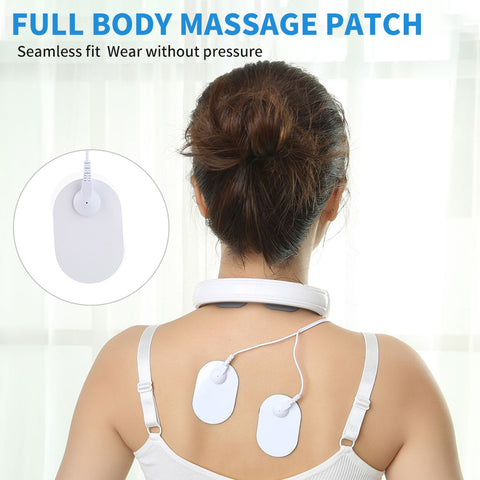 Administers mild therapeutic electrical pulses that travel along the neural fibers of the neck which work to block out pain signals from traveling to the brain - instantly reducing the sensation of soreness and pain.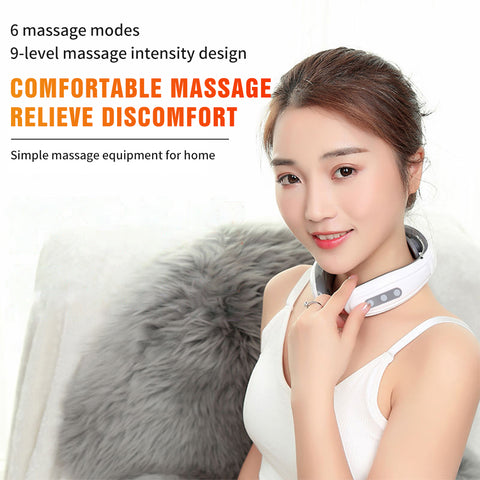 VERSATILE APPLICATIONS
Attachable extension pads reach to cover target points to bring a full range of relaxing electro-stimulation and pain relief to sore muscles or areas of tightness.
Features  : 
Color: white
Material: plastic, silicone
Features: EMS massage, 6 modes, 9 strengths, neck massage, physiotherapy
Mode: automatic combination, acupuncture, massage, acupressure, kneading, thumping (different frequencies)
Battery capacity: 400 mAh
Charging method: USB cable
Package: 
1Pcs * neck massager
1Pcs * link cable
2Pcs * patch
1Pcs * English manual
1Pcs * USB cable